No matter how much technology evolves and takes over the world, there is no doubt that when it comes to children's toys, wooden ones still have a special vibe everyone loves a lot.
Not to mention that toys that are made out of plastic are often too flashy and look out of place around most interior décor.
Furthermore, wooden toys are non-toxic and eco-friendly while also helping your little one develop their creativity, imagination and other skills.
Another advantage is that they are usually much more durable than their plastic counterparts, being able to withstand a lot of abuse from your energetic and curious baby.
No matter how many times they get banged around, thrown all over the place and even chewed on, they still look good.
And because they are that durable, these toys can easily be used by multiple kids and even different generations, being able to pass them down with no issue.
All you need to do to have them almost like new for a long time is keep them clean by simply wiping them down with a cloth dipped in soapy water or a water and vinegar solution.
Just keep in mind that actually submerging them in water is not the best idea since it can cause the wood to split and swell, deforming the toy and ultimately destroying it.
As mentioned before, these toys do not stick out like a sore thumb in anyone's home, no matter the type of décor you like to go for.
In fact, for parents who love minimalistic styles and/or neutral colors, avoiding super colorful, flashy plastic toys is a must!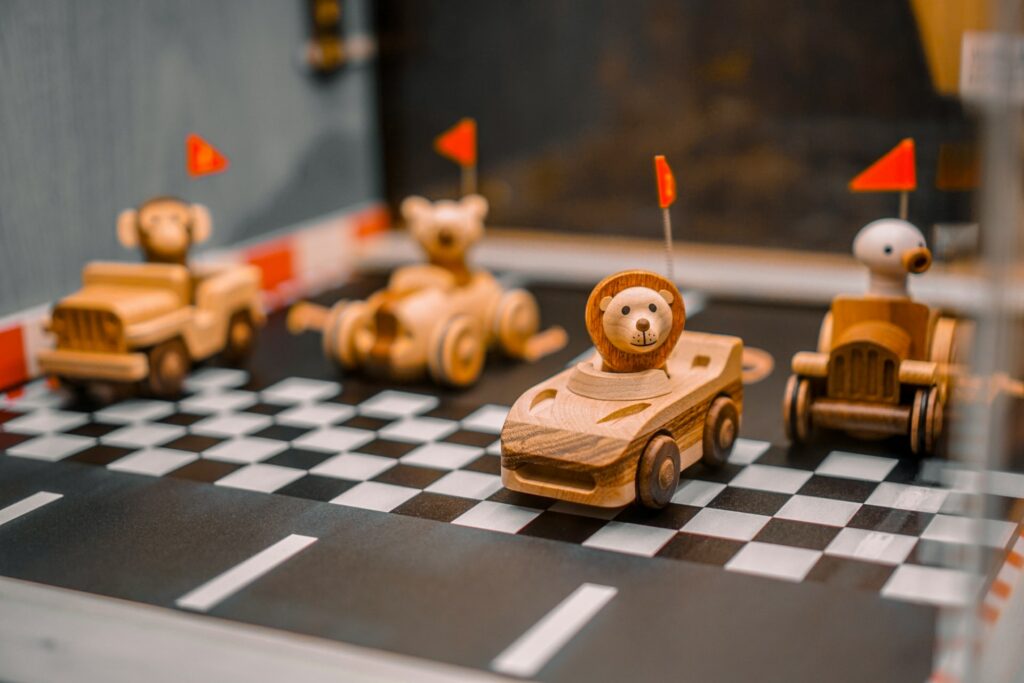 Most wooden toys don't look out of place at all when being placed on a coffee table or on the fireplace at the side of a succulent plant, for instance, basically looking like part of the décor when out of your little one's hands.
All in all, wooden toys can really make your home more stylish while, at the same time, helping your baby or toddler develop their creativity, curiosity, hand-eye coordination and keeping them busy while you do your thing!
At the same time, however, there is no doubt that it's much easier to just purchase random plastic toys than having to look for really good quality, unique wooden toys and doing a lot of research to make sure they're safe, durable and made out of the best quality materials.
Luckily, however, this guide is here to help you pick some for your little ones, providing you with a list of some of the best wooden toys on the market, in no particular order, as well as links to where you can get them!
All you have to do is pick based on your and your offspring's tastes and needs as all the featured products already comply with everything you may want in terms of quality and usefulness.
Melissa & Doug Deluxe Pounding Bench Wooden Toy With Mallet

The Melissa & Doug Deluxe Pounding Bench Wooden Toy With Mallet features a number of different colors and weighs 2.2 pounds.
It is a classic pounding toy but there is also a design twist.
When the non-removable, colorful pegs on the bench go up and down, your baby will be excited to see them playing peekaboo, taking turns to show their smiles to them!
This bench is a great learning toy as it helps young ones practice and develop their fine motor skills.
Furthermore, the pegs' action helps kids name colors and also provides a hands-on, effective and screen-free play option if you want to keep your toddler from things like tablets and phones for now while also keeping them busy and focused while you're doing some work around the house or anything else to relax.
This toy set with mallet is made out of really durable, high-quality materials so you don't have to worry about it getting broken anytime soon.
As mentioned before, the pegs are built-in and not removable, each component being made out of really solid wood which makes for a really strong and durable toy.
It is recommended to young ones between the ages of 2 and 4.
NBC news calls this brand of wooden toys "the gold standard in early childhood play" which has apparently been for more than 30 years!
Lincoln Logs – 100th Anniversary Tin-111 Pieces, Real Wood

The Lincoln Logs –100th Anniversary Tin-111 Pieces-Real Wood Logs is a great pick if you are looking for something that encourages creative building.
This toy is made out of wood as well as tin and features 111 pieces.
It measures 10.38 x 10.38 x 11.5 inches and comes in standard packaging.
This product is actually inspired by one of the original LINCOLN LOGS builds, known as the "Meeting House," which is why this 100th anniversary version will undoubtedly come with a lot of nostalgia for a lot of family members from the older generation.
This makes it even more special, knowing that the new generation will get to experience the kind of childhood you and your parent also had.
There are three building ideas that this toy can make – two small houses with a bonfire, a tall tower and a large cabin.
Kids can follow the guidelines in the manual to make these types of buildings but they can also mix and match the pieces, building their own unique structures, which ensures that your little one will most likely never get bored of this toy set.
The 111 pieces are made out of high quality maple wood and each has indentations that allow them to connect with all other pieces.
Pieces for the walls, roof, roof façade, porch, chimney, bonfire, bonfire seats and fences are included.
The pieces are all beautifully stained light brown, having the finish real cabins would also have with the exception of the face of the roof, which is a muted red and the rooftops, which are forest green.
Each and every piece is colored and carefully made with precision and impressive attention to detail.
For easy, quick and safe cleaning, just spot or wipe clean it.
The set comes with a collectible tin and can easily be stored in it when they're not being played with.
This way, they can be kept all tidy and organized, away from living spaces after playtime, avoiding the danger of stepping on them or misplacing some of the pieces.
This toy is a classic piece of American history, having been invented back in 1916 by John Lloyd Wright, architect Frank Lloyd Wright's son.
That being said, it has been loved by no less than 4 generations, getting dubbed as "America's National Toy."
Melissa & Doug Food Groups – 21 Wooden Pieces and 4 Crates

The Melissa & Doug Food Groups toy features a number of different colors and weighs 2.8 kilograms.
As the title also suggests, there are 4 crates and 21 pieces, all made out of really sturdy wood.
The set features items from the five food groups and they are all great for healthy pretend play, keeping your little one busy and interested while also helping them learn a lot!
It includes the following food items: milk, corn, fish, eggs, watermelon and more!
Playing with this set is not only fun but also education as it teaches children to plan a well-balanced, healthy meal, introducing the basics of nutrition to them.
Not only that but they can even be used to teach early number skills as well as grouping, sorting and color recognition!
Just like the option before it, this set is also easy to store since four different wooden crates are included in the package.
This way, produce, dairy, meat and fish and grains can all be stored separately, helping even more with categorization while your little one is clearing up their toys off the floor at the end of a play session.
The crates can also be used to sort by color or to combine foods as a way to pretend to serve a variety of meals.
This product is recommended for young ones over the age of 3, making for a great gift for those aged between 3 and 6.
Wooden Wobble Balance Board, Gentle Monster 35 Inch Rocker Board

The Wooden Wobble Balance Board, Gentle Monster comes with unlimited ways to play for your offspring as it can pretty much be whatever they imagine it to be – a bridge, a swing, stepping stone, cabin, lounge chair, a racetrack, a puppet, fitness equipment, a teeter popper, a tunnel, a small football goal and so much more!
It is a great toy for developing toddlers' vestibular system which is really important for improving learning and general development.
It also supports all the muscles responsible for the correct posture, also developing their sense of balance early on.
This wooden board is actually just as useful and fun for adults as it is for kids which is why it can be used for a really long time, growing up with your child!
As an adult, you can use it as a seat aid to get more fit, stretching your back in yoga exercises, training your balance or just having fun with your kid!
A wide range of exercises can be done using this product.
It is made out of the highest quality of natural real wood, with eco-friendly lacquers.
The wood has a unique coloring as well as grain, texture and mineral patterns on the outer layer which means that every single board is actually one of a kind.
This product measures 35 inches in length, 11.8 inches in width, 0.66 inches in thickness and 6 inches in height.
It can also safely hold up to 480 lbs of weight so you don't have to worry about most adults using it or for more than one child playing with it at the same time.
This heirloom piece will undoubtedly hold up to many years of fun!
Hape Scoot Around Ride On Wood Bike, Wooden Push Balance Bike Toy with Rubberized Wheels

This push bike has four wheels, all rubberized in order to protect your floor from any scratches or any other type of damage.
Furthermore, the wheels being rubberized also helps them last longer no matter how aggressively your little one plays with this great toy.
If you are looking for something that will help your little one develop their motor skills and test their mobility, this is the product for you!
This is also because such short rides are able to develop your little one's balance and muscle strength.
It is made out of the following materials: wood, PP, EVA, Metal, ABS, and water based paint.
Thanks to the fact that the paint is water based and there are no other toxic finishes, this is a completely child safe product.
Furthermore, you'll be pleased to learn that this toy won the Oppenheim Toy Portfolio Gold Seal Award and the Parent's Choice Recommended Award in 2013.
Wood Baby Rattle Teether by Homi Baby

The Homi Baby Organic Wood Montessori Styled Baby Rattle is painted with non-toxic, environmentally friendly milk paint and then sealed with organic virgin coconut oil which means that it is 100 per cent safe for teething babies as well as pets!
With that being said, if you are looking for something you can be sure will not harm your youngest and most vulnerable family members or the planet, this amazing toy is for you!
Manhattan Toy Classic Baby Beads

The Manhattan Toy Classic Baby Beads are great if you are someone looking for something more colorful for your offspring.
These beads are connected by an elastic cord and allow the child to manipulate them in a variety of different configurations which can be really fun and intriguing, keeping them interested for a long time.
This toy has been painted with water based, nontoxic finishes so you don't have to worry about your little one's safety either.
Promise Babe Wooden Rattle

The Promise Babe Wooden Rattle is a set of wooden cars with contrasting colors in order to grab your offspring's attention as much as possible.
Furthermore, the car windows are large enough that a little one's tiny hands can fit inside, encouraging them to practice their grabbing skills.
They can even be used as teething toys since they are made with raw beechwood and there is no paint or wax.
Edushape See-Me 4-Inch Sensory Balls

The Edushape See-Me 4-Inch Sensory Balls are great for little ones aged 6 months and up.
The pack of sensory balls is super satisfying, providing a lot of fun for young ones who can kick, roll, squeeze and toss them to the best of their abilities.
Exploration is a major tenet of Montessori education and this product encourages just that!
They may be just textured and colorful wooden balls but they are bound to provide your little one with a lot of fun for many years!
Double Bubble Wooden Bead Maze

The Double Bubble is recommended for little ones over the age of 6 months.
This colorful bead maze is not only fun but also really useful as it is able to promote the development of fine motor skills as well as hand-eye coordination skills for kids around that age.
This is because they can use their tiny hands to guide the beads along a couple of twisty tracks, watching and controlling them as they go by.
For some extra stability, this toy has been designed with four suction cups that can secure the base to any smooth surface.
Elite Montessori Object Permanence Box with Tray and Ball Montessori Toys for Infant

This is a great toy that is not only fun but which can also teach your little one about object permanence.
And that's not all! It also helps a lot with developing other skills such as grasping and hand-eye coordination.