Parents know all too well how curious babies and toddlers can be, especially between the ages of 6 and 12 months, which is why they need a lot of stimulation in the form of activities that can help them learn and interact with the world around them.
With that being said, if you have been looking for something your little one can occupy their time with and develop their curiosity at the same time, you will be glad to know that a good activity center can do all that and more!
This is because activity centers provide babies and toddlers with a safe space where they can explore movements, colors, textures, images and sounds, using those to develop and practice some of their motor skills such as reaching, grabbing, grasping and shaking things.
And, of course, as mentioned before, an activity center is also able to keep your little one busy long enough for any busy parent to take a breather, have a shower, or make a phone call when they need it the most.
First of all, a good time to upgrade your infant from a playmat or play gym to a seat activity center is 6 months of age.
Just know that you'll still have to monitor just how much time the baby is getting on the activity center.
This is because, while completely safe, the fabric seat can still put a certain amount of stress on their young hip joints, possibly causing hip dysplasia, which is the malformation of the hip socket.
Thankfully it's only a risk that comes with extended use so always make sure you don't use it more than twice or three times a day for 10-15 minutes at a time.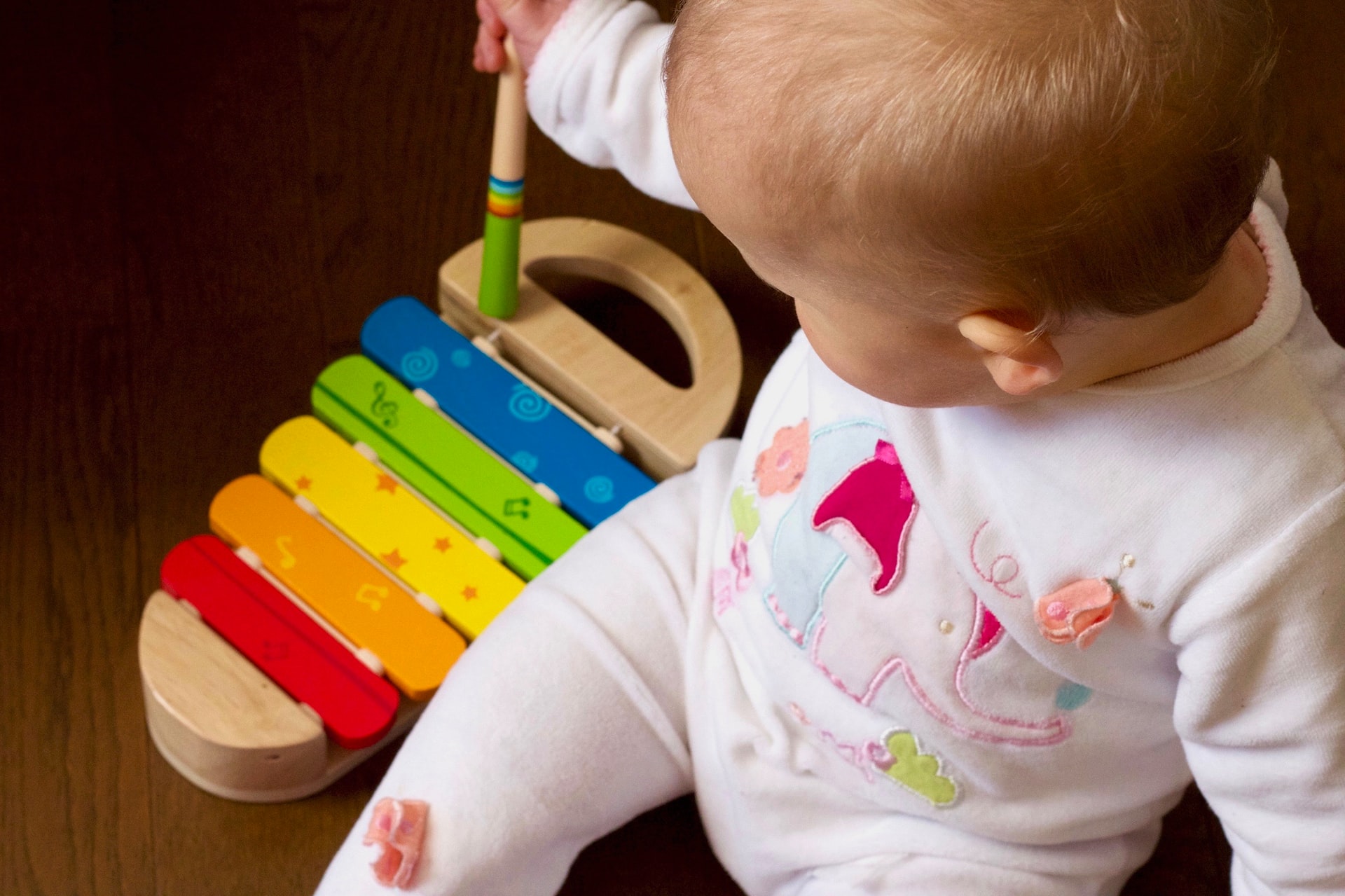 Activity centers come in many shapes and sizes, so it can be difficult to know which one is the best for your baby, which is why this guide is here to help!
First of all, you might want to know what the difference even is between an activity center and an activity table since the two are sometimes used interchangeably.
Well, both activity tables and activity centers can offer your little one a lot of entertainment possibilities, but the main difference is that activity centers usually involve placing the baby in a fabric seat right in the middle of a round table adorned with all kinds of toys, shapes, music and more.
This way, your baby will be able to stand without your help but also remain safe and secure even while you're temporarily away from them, doing anything you might need to do around the house while they're distracted for a few minutes.
They are ideal for the 4-6 month age range.
Tables, on the other hand, are much more suited for older babies and toddlers who are at the age where they have already started to move around of their own, even by holding on to furniture.
That being said, normally, there is no fabric seat that comes with an activity table and the baby can explore around it at their own pace.
This also means that the parents need to keep a close eye on the little one as they might end up wandering off and hurting themselves if they are left to their own devices.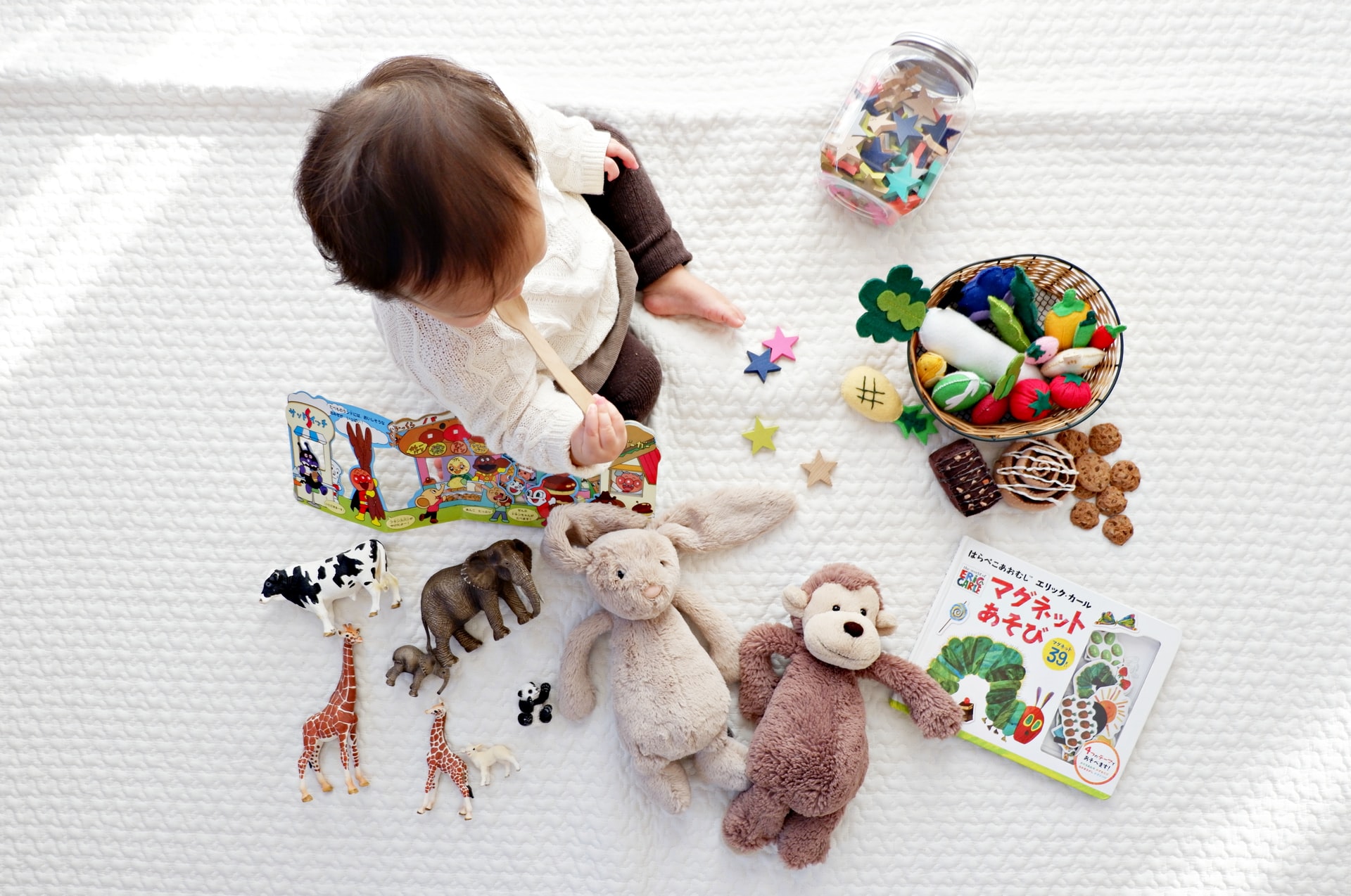 Here's what you should look for when purchasing an activity center!
Most activity centers can do a great job keeping your little one's attention, but as a parent, you should know that there are other things that matter and that you should take into consideration before making the ideal purchase.
So what separates the good activity centers from the best ones?
It can grow along with the baby
As mentioned before, babies are really curious and tend to want to learn a lot more than you may think at that stage of their lives.
They are able to learn new skills every day, making surprising progress seemingly overnight.
For instance, an 8 month old can be totally different from how they were only 3 months prior.
That being said, it can be frustrating to buy an activity center that they'll only be interested in for a couple of months only to then completely ignore it forever.
As a result, you should want to invest in something that can truly adapt to your ever-changing baby.
What this means is picking an activity center that features a lot of sensory objects and toys suitable for more than just one stage of their development and that they will continue being intrigued by for many months or even years!
This should also involve it being convertible from a sitting mode to a stand mode or even to a mobile activity center!
Safety
Of course, an activity center needs to be fun and interesting for your little one but more than anything else, it needs to be safe!
Knowing that, make sure to check the manufacturer's recommendations for safety before purchasing one for your baby.
This is because not all activity tables have the same age and weight limits, for instance.
Even if you tend to keep a close look on your offspring at all times, you should also ensure that the activity center you go for is as safe as it can be!
Durability
Just like with any other product you ever purchase, you should also make sure an activity center is sturdy and durable, therefore high quality.
Babies tend to put pretty much anything in their mouths since it's the main way in which they explore and understand the world.
Furthermore, when teething starts to happen, you better know for sure that the toys they play around with can hold up instead of breaking off and putting them in danger of swallowing or choking on some dangerous pieces of plastic.
In other words, you should make sure you're buying an activity center that can take some loving abuse from your little one.
The toys included should be thick and strong and the plastic pieces need to be durable so that no small parts can break off easily.
Just consider it like this – your activity center should last you for years, even through the toddler stage and, why not, even be passed down to a younger sibling if you're planning on adding more babies to the family!
Easy to clean
Something pretty much everyone knows about babies is that they can be really messy so, to make it easier on yourself, make sure to buy an activity center that is easy to clean and disinfect.
Having one that can easily be wiped down from all the drool should be essential for any parent!
So make sure you look for activity centers with smooth plastic surfaces that feature waterproof fabric and toys that can be removed and cleaned separately.
Now that you know all the basics and can make an informed choice, here are some of the best activity centers on the market that your little one will be able to enjoy for a long time!
Keep in mind that they are featured in no particular order and that only you can determine which is the best one for you and your baby!
Skip Hop Baby Activity Center: Interactive Play Center with 3-Stage Grow-with-Me Functionality

The Skip Hop Baby Activity Center is loved by both parents and babies and it makes sense as to why!
After all, this modern activity center can convert to a play station and event to a toddler table, being able to grow with your child!
The swiveling, swaying objects as well as the electronic keyboard that can light up and play songs when hit with hands or feet will capture your baby's whole attention and teach them a lot about the world while you get some time for yourself.
Another pro is that the foot platform is height adjustable which means that the baby's toes will always touch it and be able to push off for some fun bouncing. After all, they have a lot of energy to burn!
The colors are bright and fun but not too bright to the point that they are obnoxious so this is a product you will like to keep for a long time.
That being said, it is recommended for ages 4 months to 4 years old.
It measures 31″ x 31″ x 18.5″ and includes 6 detachable toys and fun activities.
Fisher-Price Rainforest Jumperoo

The Fisher-Price Rainforest Jumperoo is a best-selling activity center and for a good reason!
This activity center adds a "jumper" with hanging elastic supports that lets your baby burn some extra energy by allowing them to do some bouncing movements.
In fact, this is one of the bounciest activity centers out there allowing your child to go a little wild, learning a lot about movement in the process.
But the bounciness is nowhere close to being the only fun activity this center provides.
The baby will also be surrounded by visually stimulating toys, such as a spinning sun, birds, and swinging animals, all of which will capture their attention and keep them interested for a long time.
In the front, there is also an array of lights and buttons that get activated by touch of bouncing movement.
There are also zoo animal sounds and the set can rotate 360-degrees, which makes reaching everything easier on your baby.
You might also be pleased to know that this center includes a teething toy as well as a tray for snacks too!
This product is a little bit lighter than most others like it and also has a small footprint, which is great for tight spaces and easy deposition when not in use.
The height is adjustable in case your baby's legs are too short or too long for it at first.
The volume for sounds and the intensity of the lights are also adjustable.
Finally, you don't have to worry about your little one making a mess either due to the fact that this activity center has a removable and machine washable seat, making things so much easier on you.
Summer Infant Pop N Jump Portable Activity Center

The Summer Infant Pop N Jump Portable Activity Center is recommended for babies between the ages of 6 and 12 months.
More precisely, there is a weight limit of 25 lbs.
This is because, like the title also suggests, this is a lightweight option for portability reasons!
That being said, you can easily take this with you on trips and outdoors in general, providing your little one with a lot of fun no matter where you are! All you have to do is fold it up and you're done!
It even comes with a carrying case with a shoulder strap, making travel as convenient and easy as possible.
In other words, if you are someone who loves being outdoors with their baby or travels very often, this is the perfect activity center to go for!
Another advantage is the fact that it comes with a UV-protective canopy for those hot days when you need to keep your baby protected from the harsh sun rays.
It's also super easy to clean as it is made out of 100% polyester fiber. All you need to get it squeaky clean is to wipe it down with a damp cloth.
This is because food and liquids do not seep into the polyester fiber material.
If your baby makes a really big mess however, and you feel like you need more than just a wipe down to get it clean again, no worries – the pieces are also machine washable.
As for the features it is designed with, this activity center comes with quite a few sensory toys that are colorful and detachable, proving your little one with endless fun and excitement.
More precisely, there are mirrors, crinkle toys and many other diverse toys that will help your baby develop all kinds of skills while also being entertained.
There is even a jumper feature that all babies really love!
LeapFrog Learn and Groove Musical Table

The LeapFrog Learn and Groove Musical Table is more suitable for toddlers aged 1 to 3 years old.
It is a great pick as there are many features and activities that are bound to keep your little one interested for a long time.
More precisely, the buttons and pages found on the tabletop can really help with developing dexterity.
When the piano keys are pressed, they play music, which will teach your toddlers about cause and effect.
The table is small and lightweight so it's not going to take up a lot of space in your home and for the same reasons, it is also easy to move around or store when not in use.
However, keep in mind that because it is so lightweight, you might want to place it against a wall or on the carpet as a toddler using it for some stability will definitely make it slide otherwise.
Melissa & Doug Jungle Activity Table

The Melissa & Doug Jungle Activity Table is great because it's a simple but still gorgeous option for new parents.
Furthermore, it's the ideal pick for parents who want some peace and quiet thanks to the fact that it does not play sounds like other activity centers on this list.
There are also no flashing lights so you don't have to worry about seizure triggers.
But in spite of these features not being present, this table will still manage to keep your little one interested in it for a long time.
After all, there are 8 different hands-on activities that are guaranteed to help your toddler build some important skills such as fine motor ones and hand-eye coordination, by turning, flipping, rolling, sliding and spinning the chunky wooden pieces it features.
The product is recommended for toddlers aged 1 and up but keep in mind that it's pretty small so it might be best suitable for younger tots.
Evenflo ExerSaucer Activity Jumper, Woodland Wonder

The Evenflo ExerSaucer Lightweight Activity Jumper has 4 height positions, it is super lightweight and features 13 different activities for your baby to explore!
It features sounds, lights and a seat that spins in circles, allowing your little one to see the toys from all angles.
The colors are rather modern, matching all kinds of interior décor instead of sticking out like a sore thumb in your home.
It has wood accents which really makes this product stand out from plastic models.
It measures 27 inches x 36 inches x 18 inches and it is suitable for babies over the age of 4 months.
Keep in mind that batteries do not come with the product but are required.
Evenflo ExerSaucerJump and Learn Stationary Jumper Jam Session

The Evenflo ExerSaucerJump and Learn Stationary Jumper Jam Session features a massive number of different activities for your baby – 65!
The height is adjustable to three different levels and the seat pad is also removable for cleaning purposes.
Keep in mind that you will need no less than a dozen batteries for it to function properly.
It is also, understandably really large, which means you might actually have some trouble getting it through some doors.
The soft bounce base at the bottom has the perfect cushioning for some fun jumping your baby will love to do while developing their motor skills.
Some of the toys come off, which makes them not only easy to clean but also allows the baby to play with them directly on the groups and take them along on trips or to bed.
The recommended age group for this product is 4 months to walking age, the weight limit being 24 pounds.
Baby Einstein Neptune's Ocean Discovery Jumper

The Baby Einstein Neptune's Ocean Discovery Jumper has a bouncy seat that swivels 360 degrees as well as 4 height positions.
Just keep in mind that if you're looking for a more portable model, this might not be the one for you since it's rather bulky and hard to move around.
But if that's not an issue for you, you'll definitely love the ocean-themed activities that are great for the development of your baby's skills including their gross motor abilities.
And that's not even all! This activity center also helps young ones learn numbers and colors in English but also in Spanish and French!
For flexible playing options, you can remove the electronic turtle play station.
It measures 9.4 inches x 9.7 inches x 31.3 inches and is recommended for babies between the ages of 6 and 12 months or who weigh 25 pounds or less.
This product does not require any batteries.
Skip Hop Silver Lining Cloud Activity Center

The Skip Hop Silver Lining Cloud Activity Center also converts into a play table with a chalkboard surface, so if you are looking for something your little one will be able to use for a long time, this is a great option.
It also features a discovery window that allows the baby to watch their feet on the piano below.
There are 25 different activities they can do so they will remain entertained and interested for a long time.
Just keep in mind that batteries are needed for it to function properly and it can only be cleaned using a dry cloth.
This is a sleek and understated model that will look great no matter your interior design while still being colorful enough for your baby to be interested in using it.
As mentioned before, there are 25 different activities, including moving toys and the highlight, a light-up piano the baby can actually play!
The seat spins around, allowing the young one to see all the activities and reach them all easily.
You will be pleased to know that, as they grow up, you can turn this activity center into a toddler table so they can color or play a number of games on it while indoors.
This, of course, means that the product has a longer lifespan, being useful to you and your little one for many months or even years!
It measures 25.5 inches x 25.5 inches x 20 inches and the recommended age range is 4 to 11 months or a weight limit of 28 pounds.
Batteries are required.
Fisher-Price Deluxe Kick & Play Piano Gym

The Fisher-Price Deluxe Kick & Play Piano Gym features a removable keyboard and there are four different ways to play with it.
Just keep in mind that this product might be too small for some babies.
On the other hand, while many activity centers are made to only be used for a couple of months, this one offers more longevity.
More precisely, it can be used since birth by letting the baby lie down and kick the piano keys for some tummy time fun.
But, as the infant grows older, they can start sitting and playing, learning shapes, colors, numbers and many other related skills at the same time.
Another big advantage of this product is that there is no seat, which means there is no limit for how long the baby can use it at one time!
With that being said, if you are a busy or single parent, this is the perfect choice for you as your baby can be entertained for a long time while you tend to do other things or relax for a bit.
The Fisher-Price Deluxe Kick & Play Piano Gym measures 28 inches x 25 inches x 36 inches and it requires batteries to work properly.
The recommended age is 6 months and over but, as mentioned before, depending on how you use it, that age range can be greatly expanded.
Bright Starts Having a Ball Get Rollin' Activity Table

The Bright Starts Having a Ball Get Rollin' Activity Table is the ideal model for your little one that is just now starting to learn their fine motor skills and develop their dexterity.
It is recommended mainly for toddlers between the ages of 1 and 3 and features activities that are simple enough to not frustrate the little ones.
Furthermore, the legs of the table are removable, which means you can place the top directly onto the floor if that is more comfortable for your toddler that is just starting to get the hand of standing and therefore have a little trouble holding themselves up.
But, as they get older, the legs can be installed back on the table for the ideal position for all kinds of activities.
On the other hand, you might want to set this table up against a wall or place it on a carpeted floor as it tends to slide otherwise because of how lightweight it is.
Of course, this also means it's super easy to store and move around.