The corset used to be a staple of fashion for all women in the Victorian era. However, while back then it was expected and quite restricting and uncomfortable, today it has been reinvented into the so-called waist trainer, a similar product that can be used for a limited period of time on a daily basis in order to get that hourglass figure so many desire.
As you may have heard, in case you are not already an avid user, many celebrities swear by it, including, or perhaps most importantly, the Kardashian-Jenner ladies, who have undoubtedly contributed a lot to its spike in popularity.
But trying it out for the first time can be daunting, seeing the huge number of options on the market. Furthermore, while curious, you may be worried waist trainers don't really work for weight loss or, worse – are harmful to the body!
Many women love the slimming effect it immediately gives their bodies, all while helping them fit better into their clothes.
This is especially the case for women struggling with their postpartum bodies but is also widely used as a quick "fix" for those "problem areas" before an important event like a wedding or any other bash that involves taking a lot of pictures in form-fitting outfits.
Of course, at the end of the day, you have to understand health professionals warn that waist trainer use should never be taken to the extreme.
Plus, they are nothing more than a quick fix, with a few exceptions, so you still need to follow a proper, healthy diet and workout plan if you want the real deal.
Coupled with a healthy lifestyle, regular waist trainer wearing can change the shape of your belly.
With all that being said, we have prepared a list of highly-rated waist trainers with comfort, durability and money in mind, that you can try right now and see the effects for yourself.
Squeem Perfect Curvy Waist Trainer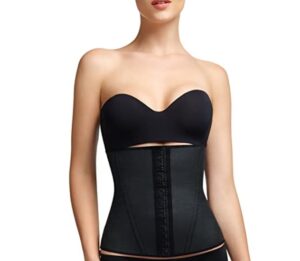 Brazilian women are often considered to be some of the sexiest in the world, so you might be pleased to know that this product is top-rated in Brazil! This is a strapless waist trainer that is capable of giving an unbelievable shape to your body instantly, all the while remaining quite comfortable.
It comes in two colors and an array of different sizes and features a double-row hook and eye closures as well as a smooth midsection with a contoured waistband.
Perhaps its best feature is how adjustable the compression is, managing to get rid of inches from the waist, making your body look curvier than ever while wearing it under any piece of clothing discreetly.
And since it features flexible steel bones, the back support and breast lifting are a big plus, helping a lot with good posture as well!
Ann Chery Women's FajaClasica Waist Cincher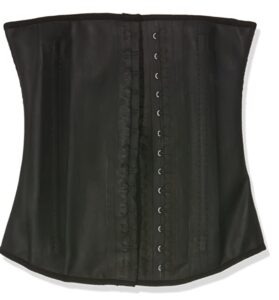 The next brand on our list makes sure to be body positive by providing a range of sizes, from extra small to multiple Xs. Furthermore, it's a very fun piece as well since it comes in a variety of colors, including red, beige and black.
You will find that this is definitely a great one to pick since it has a dual-layer consisting of latex on the outside for sturdiness and soft cotton on the inside for comfort.
To make sure that there will be no weird and unnatural bulges between the cincher and the bra, or cincher and hips, this product is designed to cover from the hip, all the way up right under the bra, leaving no unsightly gaps.
Since it's made from such a breathable material that promotes perspiration and releasing toxins, the product description recommends that its wearers put it on during cardio workouts.
However, this should be practiced with care and common sense since its constricting design around the ribs could affect your breathing during physical exertion.
Nebility Women Waist Trainer Corset Tank Top with Adjustable Straps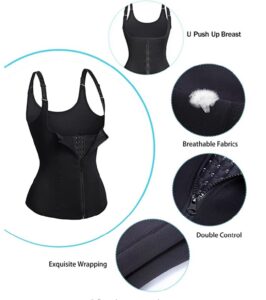 Perhaps one of the best waist training corsets on this list, it has gathered hundreds of positive reviews from very happy customers who swear by it. This is probably the case due to how versatile it really is since it appears to be such a multifunctional type of shapewear.
It promises to give you perfect back support, help with a speedier postpartum recovery, to flatten any sagginess, all the while relieving waist pain and healing and protecting the spine!
FeelinGirl Women's Latex Underbust Waist Trainer Corset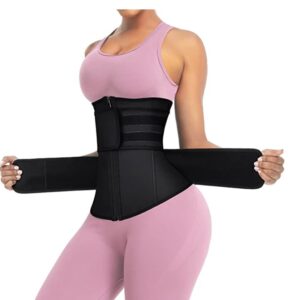 This one has been updated to have a better and more flexible fit, although it may still run a little small on many. It is made from 96% cotton and 4% spandex, materials that are said to help speed fat burning.
While the design may be a bit more difficult to conceal under certain types of clothes such as strapless tops and dresses since it includes a waist trimmer vest, it's super comfortable and lightweight and it even has pockets! So you do the math!
Fajas Women's Beauty Classic Latex Waist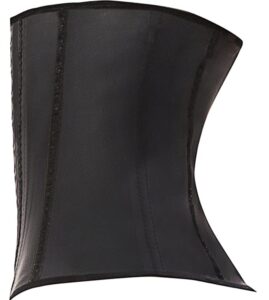 The Fajas features three rows of hooks and fasteners so the wearer can tighten it gradually upon getting more used to it, without being forced to buy a smaller one later on.
The boning at the back is flexible and comfortable, holding its original shape for a long time, even after prolonged daily use. It is available in classic black but also in a fun shade of pink for those who like the thought of having a playful secret under their clothes.
And just like other waist trainers on this list, it makes sure to keep cotton on the inside for comfort and latex on the outside for sturdiness!
VENUZOR Women Waist Cincher Trimmer Waist Trainer Belt – Sport Girdle Belt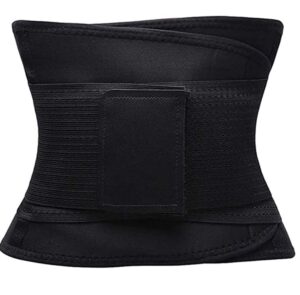 Number six on the list has been upgraded as well, this time with the goal of making the wearer sweat as if they were carrying around a sauna!
As a result, it promises to burn a lot more fat from the waist area than before, helping with achieving a flat stomach faster.
However, you can rest assured that sweating in it is not going to be as suffocating as it sounds due to the fact that it has mesh backing, guaranteed to ensure breathability.
Burvogue Waist Trainer Corset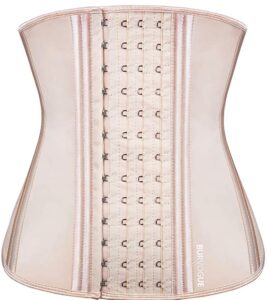 The Burvogue Waist Trainer Corset is a gym waist trainer which features 9 steel bones under the bust, which is sure to help a lot with correcting your posture during workouts.
Not to mention that it is designed to be adjusted perfectly to anyone's waist. It can even help with elongating the body, pretty much adding a bit of height simply by fixing that bad posture!
The same product promises to aid in recovery for new mothers seeking to get back in their pre-pregnancy shape. It promotes fat burning, reducing the waist circumference by 3 to 5 inches during workouts but it can also be worn for extended periods of time under any preferred clothing.
As a con, however, according to reviews, it tends to stretch and lose its tightness and elasticity a lot faster than other options.
LT.ROSE Latex Waist Cincher Trainer Belt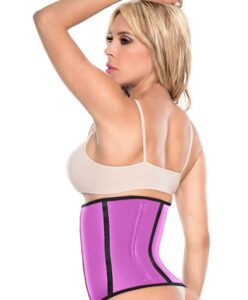 The next recommendation comes in three fun colors – pink, blue and purple – and has multiple rows of closures so you can slowly adjust the tightness as your waist starts to trim down more and more.
Since the outer layer is latex, you may be worried about the smell of new rubber, which many can't stand. However, this product is advertised as odorless so you can rest assured that is not going to be an issue.
TAILONG Hot Sweat Waist Trainer for Weight Loss- best fat burning waist trainer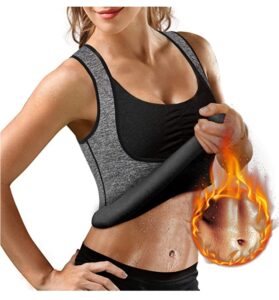 Like its name also not so subtly suggests, this is yet another waist trainer that promises you will sweat like at the sauna and burn a lot of calories as a result. It features a thermal belt made of neoprene and can be worn during exercising on a daily basis.
At the same time, since it has spiral steel bones, it can also be used for support, not just during workouts, depending on everyone's preferred lifestyle.
It is said to have one of the highest levels of compression, which of course, means that it trims the midsection a lot faster than many others. Because of this, however, it would be wise not to wear it for too long.
ASHLONE Latex Waist Trainer Corset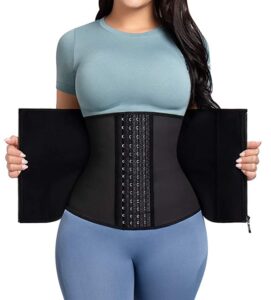 The last product on our list is not only efficient, but it also looks quite unique and aesthetic. This is due to the fact that, aside from its hook and eye closures, it also features zipper and belt ones!
It is made of high quality, natural latex that helps a lot with flexible movement, and since the interior is made mostly from cotton, it is delicate on the skin, preventing you from getting scratched by the zippers.
The spiral steel bones provide perfect back support, helping with posture, and the waist trainer itself can shrink the stomach area by 3 to 5 inches!
If you also follow a healthy diet and exercise regularly, the results are certainly here to stay!
Perfect for any occasion, it can be worn every day for a trimming effect as well as under your clothes to get those perfect pictures at various events.