Many people enjoy the sunny weather we got this summer by spending much time outside. However, when warm weather turns scorching, the inside seems like a better choice.
Shade sails are becoming very rending items for various reasons. They are easy to set up, inexpensive, and efficient ways of creating temporary roofs to shield you from the hot rays.
Shade sails attach to roofs or furniture items to form a canopy of shade, providing people with the advantage of classic sailboat technology straight in their homes.
When chose adequately, shade sails can be the best way to block dangerous UV rays while also complementing the design of your home. They are available in various colours, shapes and sizes, and are typically made out of UV-resistant materials.
Typically speaking, when you are looking for shade sails, you want to go for high-density polyethylene fabric (HDEP) and search for shapes and colours that match the overall design and vibe of your home.
Let's see our top picks!
Sunnykud Triangle Shade Sail With String Lights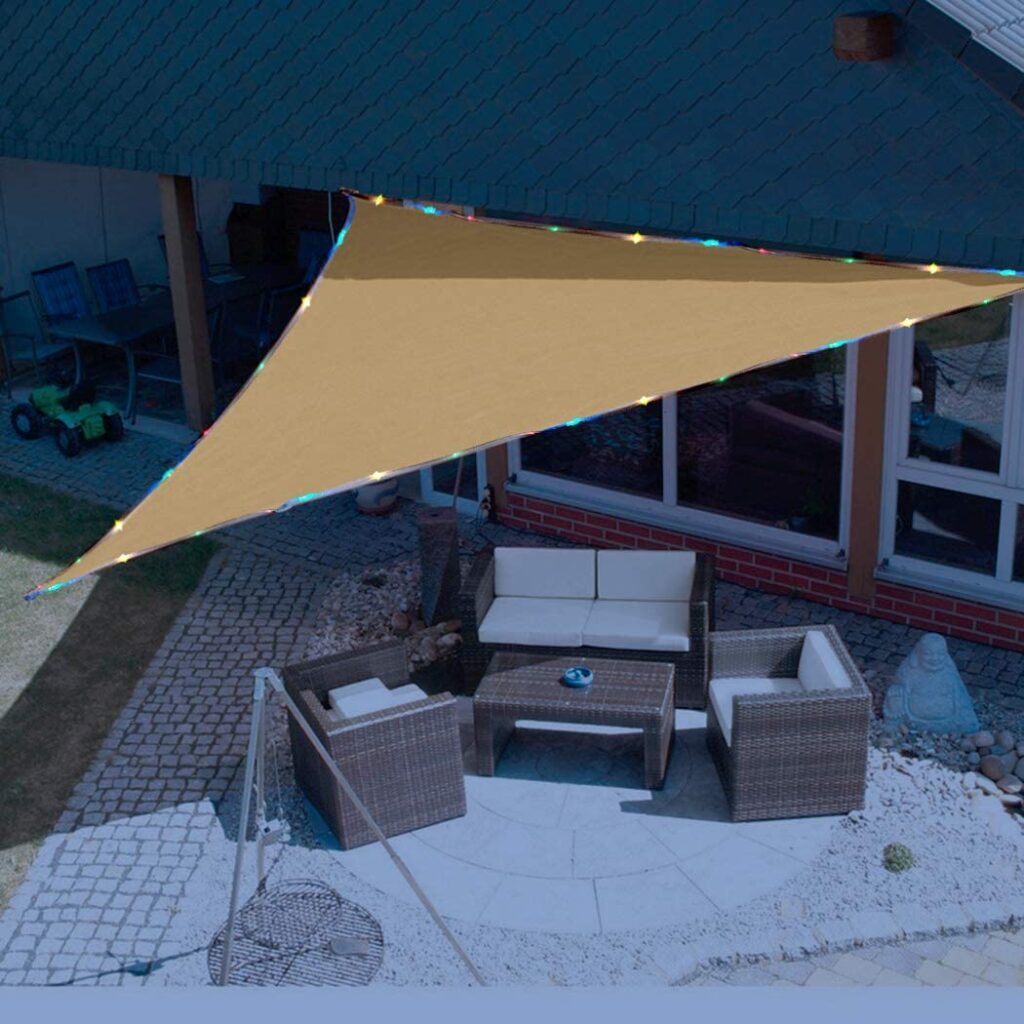 This shade features 120 solar multicolour LED string lights surrounding its edges.
The material is waterproof, and the triangle-shaped shade measures 12 x 12 x 12 feet.
The material is high-density polyethylene, and the LED lights are encased in custom plastic tubing for waterproofing.
D-rings are available at each corner, and the shade features three ropes for hanging apart from the connecting line.
Customers are pleased with the product, and nobody reported any leaking. It is recommended to install the sail at a 20- to a 40-degree angle for rainwater to flow correctly.
Shade&Beyond 2 Piece Sun Shade Sail Triangle With UV Block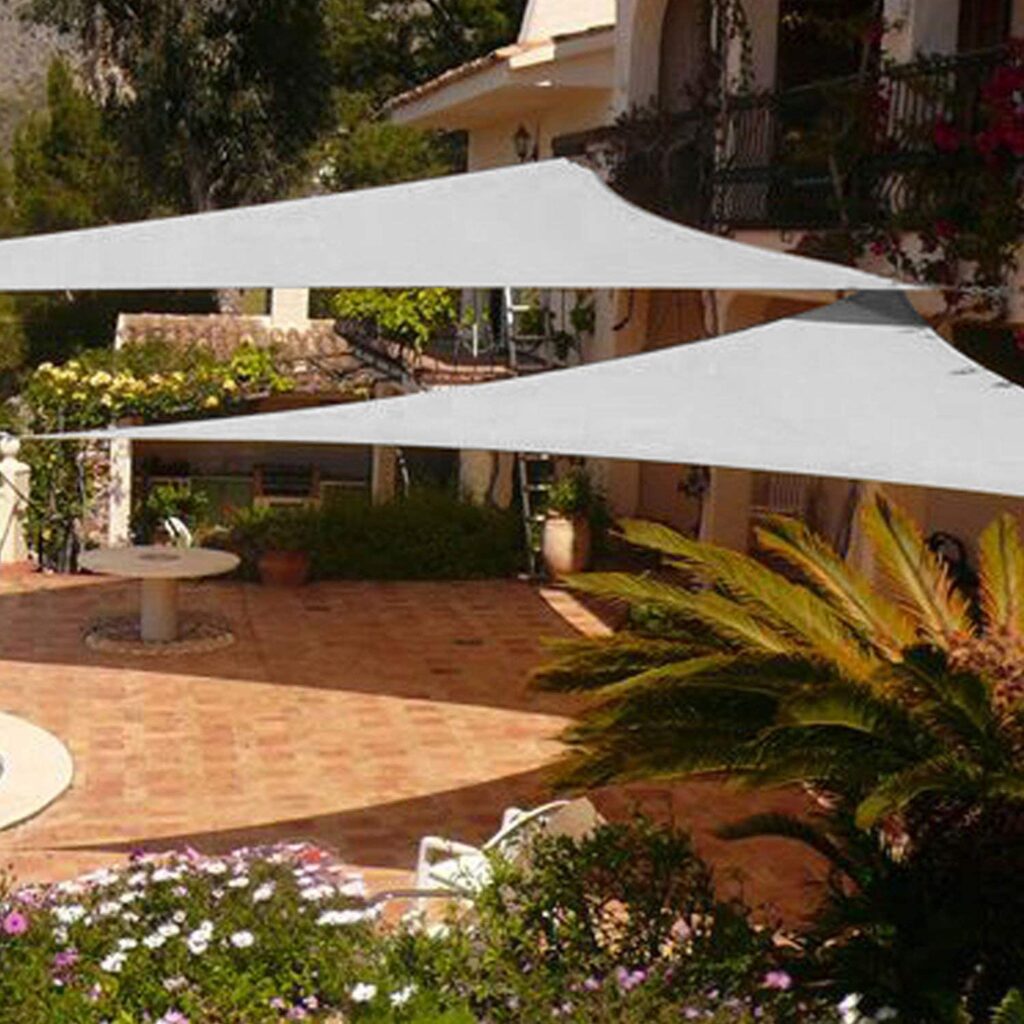 We are firm on believing that having a tight budget doesn't have to mean that you can't get good quality.
This shade set comes in a two-piece triangle layout made out of 185 GSM UV-protected HDPE fabric, featuring stitched seams and D-rings surrounding all corners.
The design is simple and rugged. The sail features a five-year warranty.
Both sails measure 12 x 12 x 12 feet and are available in various colours.
Oversized Triangle Sun Sail Shade For Gardens And Patios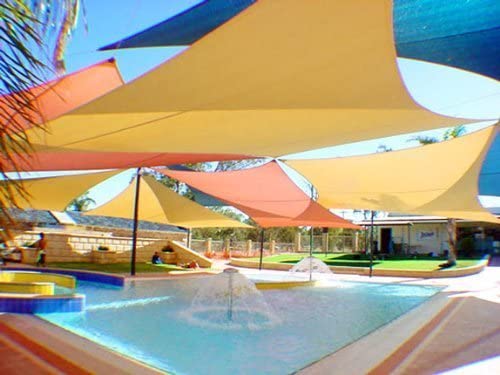 This is another popular choice among buyers. It is a 20 x 20 x 20 triangle shade fabricated from HDEP that will block the sun significantly.
It is meant for large spaces, and it works particularly good for covering spaces nearby pools, with or without covering the water.
It is a very convenient choice for parents of active kids who want to shield them from harmful sun rays.
Rectangle Sun Shade With Customizable Colors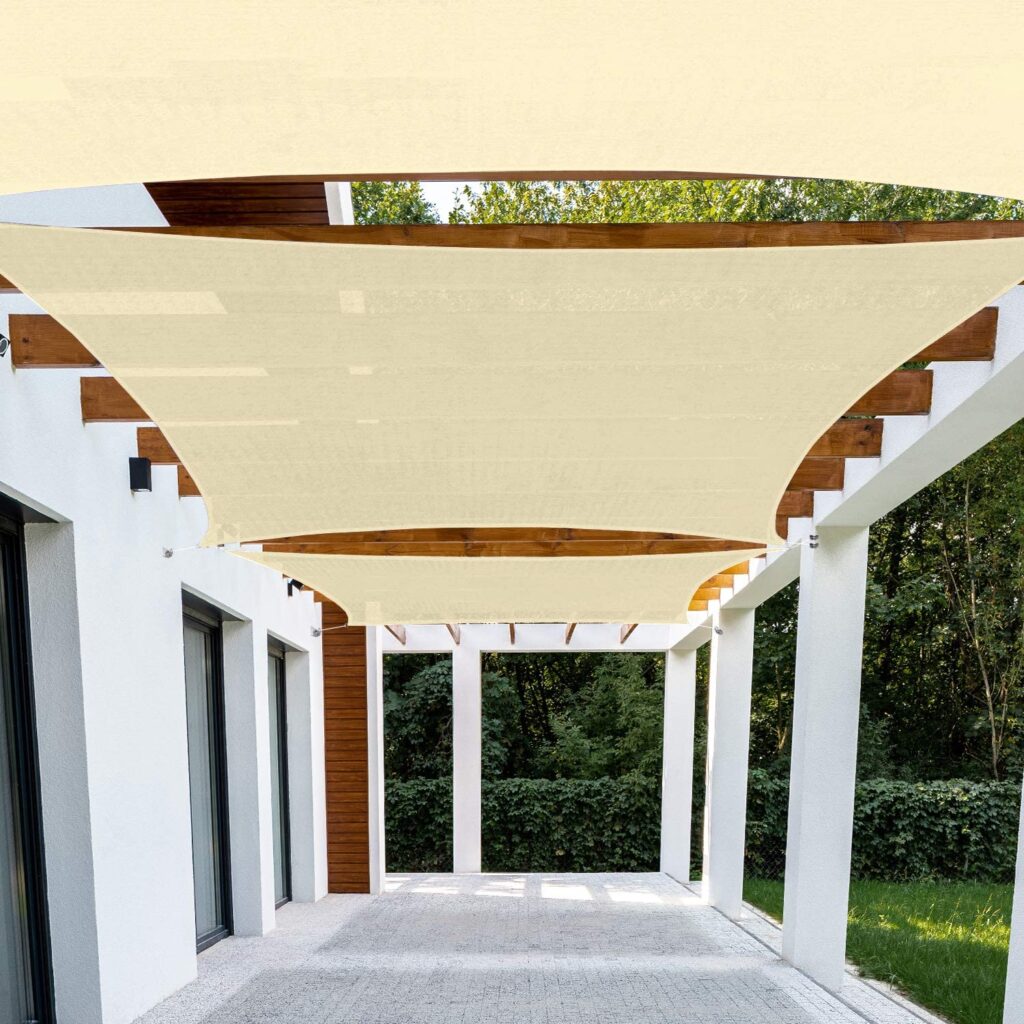 This is a one-piece shade that covers a significant area – 16 x 20 feet. It is available in various pastel colours, ranging from coral to green or beige. It got overwhelming reviews by those who chose to install it in their patio, above pergolas or sandboxes.
The material can block up to 95% of the incoming UV rays.
The sail is shipped with 20 feet of rope and install instructions, which are simple to follow and set up.
Needless to say, there is no such thing as the perfect shade sail. One thing is certain – having one is much better than having none at all. Investing in a shade sail is one of the best things you could do for yourself this summer.