If you have just welcomed a new addition to the family not too long ago, you might still be unsure whether or not you really need a high chair to aid with feeding the little one!
Well, they are definitely not needed for a newborn since you can always place them on your lap or hold them in your arms at that stage.
However, as soon as your baby turns 6 months or so and you start introducing solid food to them, you'll find that high chairs become a big priority. A high chair is helpful because it keeps the infant upright and secured during meals.
Not only that but because of the chair's height, it raises them to the dining table's level so they can be part of meals with the rest of the family while also in their parents' line of vision at all times!
However, while you may think they are all the same, in reality, trying to shop for the perfect high chair could be quite the hassle since some of them have a ton of extra functions you might not even be sure if you need or not.
But above everything else, you should take into consideration whether or not it is easy to clean since your baby is bound to make a mess while learning how to properly eat solid food.
That being said, here are 13 different high chairs and what they offer so you can make an informed purchase!
Graco Blossom 6-in-1 Highchair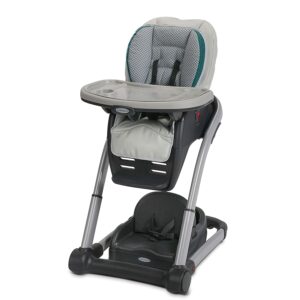 The first option is really great due to the fact that, as the name suggests, it is versatile!
This product has the perfect setup for every stage of your offspring's development, being able to pretty much, "grow" along with your child!
Of course, this means that it has a number of different recline, height and footrest adjustment options. The food tray can also be easily removed with just one hand, something that is not only time saving but also makes it easy to clean.
Not only that but if you have twins or your young ones are just really close in age, this chair can be used for two kids at the same time!
Stokke Tripp Trapp Chair For Toddlers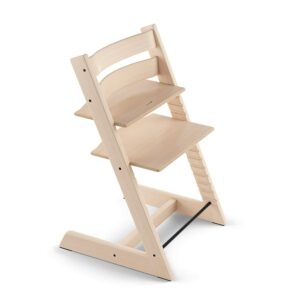 The Stokke Tripp Trapp is made out of wood, which makes it a little harder to clean than other materials.
It is also not the most budget-friendly but, just like the previous option, it is able to truly grow with your child being especially good for your slightly older, pre-school-aged kids!
Not only that but, the advantage of it being made from wood is that it can easily blend with the rest of your furniture, never standing out like a sore thumb in your house.
Peg Perego Tatamia High Chair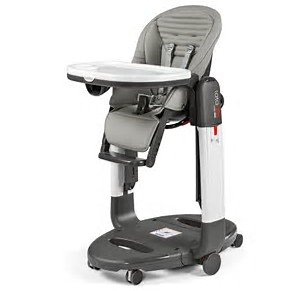 This is a very innovative buy due to the fact that it is suitable for newborns as a baby swing as well as a high chair with adjustable height so you can keep using it as your young one grows up.
But what truly makes it great is the comfort this luxury brand offers.
From the padded seat, to the dishwasher-safe tray, to the eco-leather finishings that aid with the cleaning, the Peg Perego Tatamia is one of those products that will make you feel like you made a great investment and got the very best for your precious baby!
While it is on the heavier side at 14 kg, the anti-scratch wheels help a lot with moving it around.
If you're short of space, you should also know that this chair folds down so you'll never have to worry about it when it's no longer in use.
Fisher-Price SpaceSaver High Chair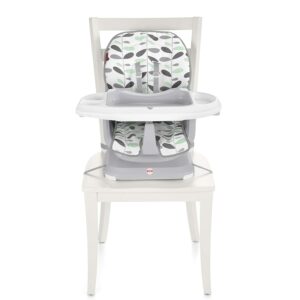 While this option may not be as sturdy as some other models, many parents absolutely love it anyway
This is because it can be attached to dining chairs and can be converted from a high chair to a toddler booster.
The fabric backing might make you think it's not as easy to clean as other high chairs but that is not entirely true since it can be removed and thrown into the washing machine.
Furthermore, the tray is a huge pro since it's much deeper than many others, which, of course, helps keep the little one's food contained and not all over the floor.
Inglesina Fast Table Chair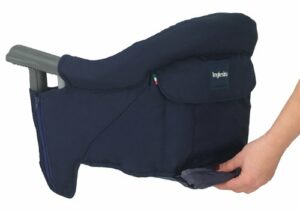 The Inglesina Fast Table Chair is designed to be hooked directly to dining tables or kitchen counters!
This is great since you can take it with you anywhere – be it while travelling or even at restaurants so the baby can eat at a table with you safely. Furthermore, the cover is removable and machine washable.
Maxi-Cosi Minla High Chair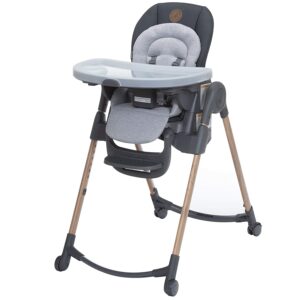 This product can be used since birth as, without the tray, it transforms into a reclining chair.
As the baby grows up, however, it can be used as a normal high chair and then even as a stool for a child.
Not to mention how stylish this chair looks! It will never make your house look like it's filled with all kinds of colorful plastic!
As for the cons, it can be a bit challenging to fold and it's also rather expensive.
Baby Jogger City Bistro High Chair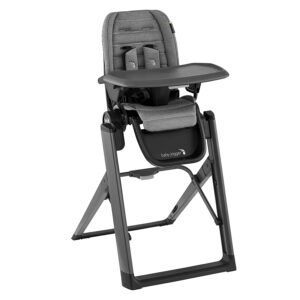 This chair has everything you need but is also designed to fold completely flat so it's perfect if you don't have too much space in your house.
You can easily stash it in the closet or between the fridge and the wall!
It also comes with a lot of tray space and has adjustable heights, just like other full size versions!
The product is obviously very convenient but does not compromise on comfort since the seat is cushioned so your baby will love it! Not to mention that it's stain-resistant and can be washed in the washing machine!
OXO Tot Nest Booster Seat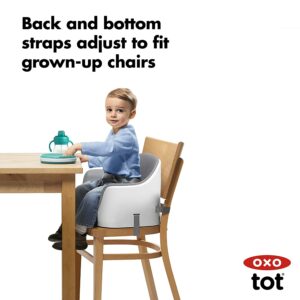 The OXO Tot Nest Booster Seat is another option but in comparison to others like it, this one is much easier to adjust since it's actually a seat tht can be adjusted.
Furthermore, it has some modern, clean lines so it's going to look right at home with your other furniture pieces.
Delta Children EZ-Fold High Chair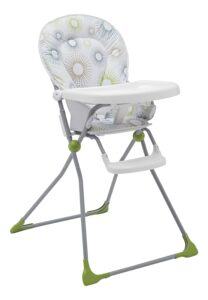 Here is a very budget-friendly option that you might have heard of already since it's so popular and affordable.
However, that's not to say that the quality had to suffer since it's actually a really good option that's gathered a lot of great reviews.
The fact that the seat as well as the tray are both made from plastic makes it easy to clean by just wiping it down with a wet cloth or some disinfectant.
Even the safety straps are detachable which means that you can pop them into the washing machine if they get a little dirty as well.
It's a rather simple design but some may like that a lot precisely because of its minimalistic, modern look. And, of course, the material it's made of also makes it super lightweight so you can move it around really easily!
Chicco Polly Progress Relax Highchair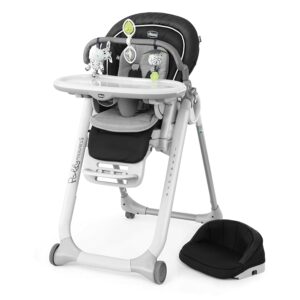 If you are looking for a really comfortable option, this is the one for you! After all, the name says it all!
It can be used with newborns as well, making it the ideal pick if you want a multifunctional chair you can use at different stages of your baby's life.
The padded cushion will keep your offspring super cozy and safe but that's not all!
The said cushion is designed to be seasonal, which is why it is sure to keep the young one warm in the winter and cool in the summer thanks to its two different sides.
Furthermore, it has no less than 8 height positions and 3 reclining ones. It will also keep your baby entertained at all times since it has a toy bar!
As for cons, this chair is quite heavy and will also take up a lot of space.
Infantino Fox Grow-With-Me 4-in-1 Highchair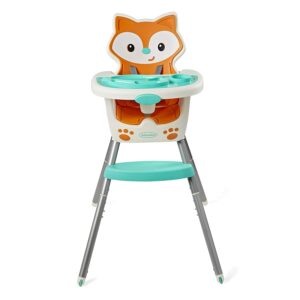 This is another multi-purpose highchair that so many parents love.
As the name suggests, it's basically four different products in one, being used as a safe chair thanks to it reclining function, then it transforms into a high chair, then into a booster seat and then into a toddler chair!
Basically, it's going to grow with your child, helping you out at every stage of their young life.
It's made from low density foam so it's easy to clean and move around but it cannot be folded down and it's quite big so it will occupy a lot of space.
But, of course, one of the most obvious features it has is the adorable fox design, reason for which many parents have picked it.
The cuteness of the product is a great incentive for the offspring to actually want to sit in it during meals!
On the other hand, if you want your high chair to match the rest of the décor in your house or have a more minimalist style, this is not for you.
Bloom Fresco High Chair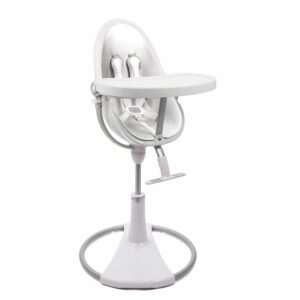 This is a rather expensive option and can be difficult to clean but the pros may greatly outweigh the cons for you.
First of all, the Bloom Fresco is anti-slip and scratch-resistant and does a 360-degree swivel.
It also has three reclining positions, padded shoulder straps and even a smart buckle so you can rest assured that your little one will always be safe while also feeling perfectly comfortable.
Furthermore, it's highly customizable as you can pick the frame and seat pad and choose your favorite color as well!
Oribel Cocoon Three-Stage High Chair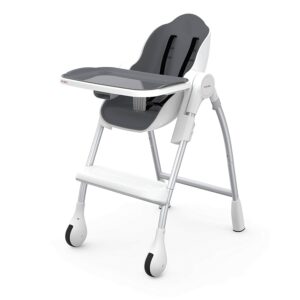 Last but not least, the Oribel Cocoon Three-Stage High Chair comes with a dishwasher-safe tray, has 4 color options and features 3 reclining positions and 6 height settings!
Unfortunately, it has quite a wide footprint so you'll find that it takes up a lot of space and it's also not the easiest to maneuver.
This chair has a very fun Jetsons-inspired vibe and it's stylish enough to just leave out all the time. However, you can rest assured that it can still be folded and stored away when not in use.
Hopefully, this list was helpful on your journey to finding the ideal high chair for you and your little one, or at least, you now have a better idea about the variety of options out there and their many functions and styles.